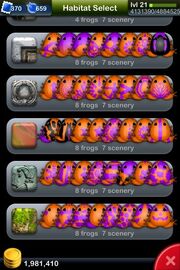 Viola is a pattern or secondary color for frogs. It is a light purple more blueish than the base color Violet.
Viola frogs are required for the following awards:
Weekly Sets
Complementary Hues: Yellow Viola Biplex
Sweethearts: Pink Viola Obaro x2
Superheroes: Green Viola Clunicula
Hot Rods: Tangelo Viola Persona
Picking Grapes: Purple Viola Vinaceus x2
Clowning Around: Aqua Viola Ludo
Insero Rainbow: Red Viola Insero
Color Wheel: Black Viola Floresco
Easter Time: Purple Viola Insero, Marine Viola Insero
Fade To Night: Tangelo Viola Insero
Teen Ninja Frogs: Olive Viola Ligo
Hawaiian Sunset: Tangelo Viola Insero x7
Ad blocker interference detected!
Wikia is a free-to-use site that makes money from advertising. We have a modified experience for viewers using ad blockers

Wikia is not accessible if you've made further modifications. Remove the custom ad blocker rule(s) and the page will load as expected.