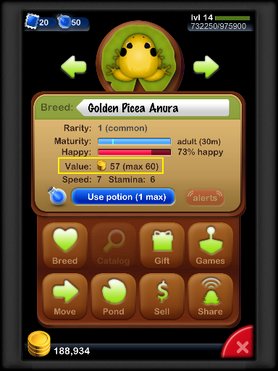 Value is the number of
coins
that a frog can currently be sold for. This value is calculated by 80%
Maturity
and 20%
Happiness
.
Maximum value is determined primarily by the rarity of the frog pattern, with some variation due to color and pattern color.
Maximum value determines the amount of XP (experience points) that is earned when a frog is tamed. XP earned is calculated at 10% of maximum value (rounded down to the nearest XP). For example, if a frog is worth 726 coins at maximum value then the player will earn 72 XP upon taming the frog.
The maximum value of a frog contributes to the cost of breeding with that frog (half of the average of the maximum values of the two parent frogs).
Ad blocker interference detected!
Wikia is a free-to-use site that makes money from advertising. We have a modified experience for viewers using ad blockers

Wikia is not accessible if you've made further modifications. Remove the custom ad blocker rule(s) and the page will load as expected.