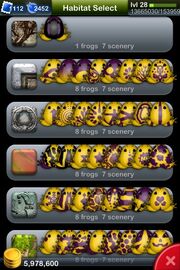 Pruni is a dark purple pattern or secondary color for frogs. Pruni is Latin for "plum," a dark purple fruit. Pruni is darker than any of the other purples such as Royal, Violet, and Viola.
Pruni frogs are required for the following awards:
Weekly Sets
Argyle Socks: Violet Pruni Adamantis x2
Peaches and Plums: Maroon Pruni Insero x4
Onions: Royal Pruni Bulbus x2
Picking Grapes: Royal Pruni Vinaecus x2
Raisins: Purple Pruni Crustalli, Purple Pruni Bovis, Purple Pruni Dextera, Purple Pruni Africanus, Purple Pruni Velatus, Purple Pruni Marmorea, Purple Pruni Zebrae, Purple Pruni Arbor
Ad blocker interference detected!
Wikia is a free-to-use site that makes money from advertising. We have a modified experience for viewers using ad blockers

Wikia is not accessible if you've made further modifications. Remove the custom ad blocker rule(s) and the page will load as expected.