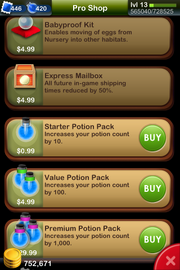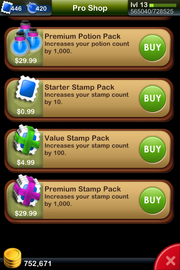 The Pro Shop allows in-app purchases of upgrades, potions, and stamps for real money. The Pro Shop is accessed through the green menu button on the lower right corner of the screen.
Stamps & Potions: $0.99-$29.99
The cost per stamp or potion decreases when you buy in larger quantities.
| | | | |
| --- | --- | --- | --- |
| # of Stamps or Potions | 10 | 100 | 1000 |
| Cost | $0.99 | $4.99 | $29.99 |
| Cost per stamp or potion | 9¢ | 4.9¢ | 2.9¢ |
User Suggestion: When you go to the pond to tame a new frog, don't leave until you have found something valuable in a yellow or pink box. You'll often find plenty of stamps and potions.
User Suggestion: a babyproofing kit will save on potions by letting breed more frogs at once and a express mail box will let you save on stamps.
Glitch: When a video to watch for free stamps or potions comes up, take that chance. When the video is over an "x" is tapped, tap continue with two fingers and if it is done right you will get two stamps or potions instead of one.
Babyproof Kit: $4.99
The Babyproof kit allows the player to move eggs from the nursery to any other habitat. The kit unlocks all the other habitats. This is a nice add-on once you are sure you like pocket frogs and think you will be playing it forever. The item effect is permanent and binds across all devices on the same account.
Express Mailbox: $4.99
The Express Mailbox upgrades the standard mailbox and reduces in game shipping times by 50% for all future items. This is a very useful add-on and it is recommended that you get the mailbox as soon as you decide you like Pocket Frogs. The item effect is permanent and binds across all devices on the same account.
Ad blocker interference detected!
Wikia is a free-to-use site that makes money from advertising. We have a modified experience for viewers using ad blockers

Wikia is not accessible if you've made further modifications. Remove the custom ad blocker rule(s) and the page will load as expected.