Welcome to Pocket Frogs Wiki!
Hi, and welcome to Pocket Frogs Wiki, the free encyclopedia about Pocket Frogs that anyone can edit.
While you are here, please browse our pages and if you notice some information that needs updating, please create an account and make any changes that are necessary. After you have created an account, please also visit our Community Portal, where the Pocket Frogs community comes together to organize and discuss projects for the wiki.
We have many generous users, so why not start off with a free frog?
Frogs are available at each level, Chart
News
Summer 2017
Please leave requests for Admin on my talk page. DalekCaan1 (talk) 17:15, March 22, 2014 (UTC)
1/28/2015
Version 2.1.0 released:
Added FOUR new Legendary breeds!
Fixed crash when sharing a frog on the iPad
2/5/2014
Nimblebit has released the final weekly set.  Nimblebit announcement
2/7/13
Android Version 2.0 released.
11/1/12
Version 2.0 released (iOS only - Android pending):
iPhone 5 support!
46 New frog breeds to collect!
Share frogs on twitter and Facebook!
Added game backups and gifting through Game Center
Removed plus+ network due to lack of support
9/12/11
Version 1.2.1 released:
Added error checking to prevent sets from crashing
Improved Pro Shop connectivity
Optimized game sounds
7/12/11
Version 1.2 released:
Expanded the number of available Habitats to 16
Made past Weekly Sets available to complete
Added more special frog breeds (available on certain dates in Frog Mart)
Fixed an issue stopping sound effects
Froggydex now saves your scroll position
Fixed issue with losing friends
The ten new breeds (level) are: Geminus (7), Bulla (8), Orbis (9), Obaro (10), Persona (11), Vinaceus (12), Gyrus (13), Trivium (14), Bulbus (15), Signum (16)

3/23/11
Version 1.1.1 released:
Promotional frogs now appear in Frog Mart
Frog Mart now stocks frogs in more colors
New backgrounds and scenery
Added input delay to gift accept dialog
Optimized game startup
Promotional frogs cost potions
9/10/10
October the 6th was the first day that the new Wikia layout is visible for viewers on all wikis. If you have been following the recent staff blogs, you will know what this means. If not, then I suggest you go check it out now: Continue reading

8/10/10
PFW Catalogue Manager has been updated to 1.3. This update has expanded the capacity to 114 rows to record frogs in your catalogue, nursery and all 7 habitats (if required). The two new awards (Jack-O-Lantern and Tribal) have also been added.

6/10/10
Update 1.0.4 was released today bringing in Game Centre! We are also looking for contributors to our Database of Species Values. If you are interested, please click on the link and request access on the website.
To request access to the database: With the database open in google docs, there is a "share" button in the upper right hand corner. A window will pop up for Sharing Settings that states:
"You can't add people, but you can ask the owner to do so. A request to expand sharing has been sent to the owner of this document. Edit the list of people who would like access and click Share. There are currently no collaborators, but you can add people to share with here. Ask owner to share with:"
Enter your e-mail address in the textbox to request access to the document.

4/12/10
Version 1.0.8.1 released (IOS 4.0 Tested). "Our sincere apologies to those affected by the bug in the 1.0.8 update."
3/12/10
From the Nimblebit Forums: Pocket Frogs is currently unavailable in the App Store due to a major bug in the latest update. We have already submitted a fix and hope for it to be back up on the store soon.
Topic set by ChanServ on Thu Dec 02 2010 20:05:32 GMT-0600 (Central Standard Time)
2/10/10
Great News! We have just updated the PFW Catalogue Manager to show you if the frog you have catalogued is part of an award!
2/9/10
Its here! The Pocket Frogs Wiki Catalogue Manager is now available to download. Use it to optimise the frogs saved in your catalogue and delete duplicate attributes! It even tells you which ones you are missing so that you know the frogs to add! The Catalogue Manager has been added to the "Downloads Section" in the menu bar.
Latest Activity
Which Frog Are You?












Pocket Frogs was released on iTunes on 15 September 2010 as a freemium iOS game developed by Nimblebit. It is a free universal app that runs on both iOS and Android operating systems. It uses Game Center (Mobage on Android) for leader boards and awards. However, it does not require an internet connection to play or complete the game. The game also features "In App Purchases" (IAPs) which speed up game play, but no purchases are necessary to play, enjoy and finish the game.

Pocket Frogs

iOS Icon for Pocket Frogs

Developer

Publisher

Distributor

Version

Released

2010-11-10

Genre

Simulation

Modes

Single Player/Multiplayer

Rating

Apple 9+

Platform

iOS, Android

Requirements

iOS 6.0 or later, optimized for the iPhone 5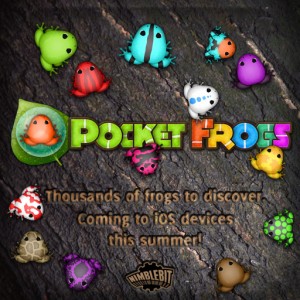 Ad blocker interference detected!
Wikia is a free-to-use site that makes money from advertising. We have a modified experience for viewers using ad blockers

Wikia is not accessible if you've made further modifications. Remove the custom ad blocker rule(s) and the page will load as expected.