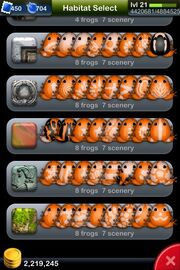 Ceres is a pattern or secondary color. The name "Ceres" comes from the Latin word cera, meaning "wax." Ceres is a pinkish waxy color.
Ceres frogs are required for several awards:
Weekly Sets
Snakes!: Maroon Ceres Geminus
Skeleton Crew: Black Ceres Spinae x4, Black Ceres Calvaria x4
Ballerinas: Violet Ceres Clunicula x4, Black Ceres Clunicula x4
Avocado & Pit: Cocos Ceres Anura
Easter Time: Azure Ceres Cesti
BLT: Maroon Ceres Marmorea x2
Argyle Socks: Marine Ceres Adamantis x2
Tribal Council: Black Ceres Trivium, Black Ceres Pingo
Ad blocker interference detected!
Wikia is a free-to-use site that makes money from advertising. We have a modified experience for viewers using ad blockers

Wikia is not accessible if you've made further modifications. Remove the custom ad blocker rule(s) and the page will load as expected.