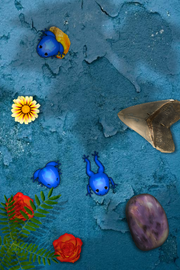 Blue is a frog base color a darker blue than the Azure base color and the Caelus pattern color.
Blue frogs are required for several awards:
Weekly Sets
The Final Set!: Blue Callaina Tessera
Veteran's Day 2013: Blue Albeo Stellata x2, Blue Albeo Americano x2
Galaxy Far Away: Blue Albeo Shelbus
Rainbolt: Blue Albeo Figularis
The Blues: Blue Callaina Tessera x2, Blue Callaina Gemma x2, Blue Callaina Arcus x2, Blue Callaina Pluma x2
Summer Fruits: Blue Caelus Lunaris x2
July 4th: Blue Albeo Americano
For Dads: Blue Callaina Palma x2
Shark Attack: Blue Caelus Marinus x4
Memorial 2013: Blue Albeo Americano, Blue Albeo Frondis
Sailboat Race: Blue Aurum Axis x2, Blue Caelus Marinus x3
Earth Day 2013: Blue Folium Planeta, Blue Caelus Marinus x2
Wet Paint: Blue Caelus Pictoris x2
Veterans' Day: Blue Albeo Stellata x2
Coral Reef: Blue Ceres Arbor, Blue Floris Arbor, Blue Carota Arbor, Blue Albeo Arbor
Hawaiian Shirts: Blue Albeo Ornatus
Memorial Day: Blue Albeo Stellata, Blue Callaina Velatus
Planet Earth: Blue Folium Magus x2, Blue Folium Dextera x2, Blue Folium Biplex x2, Blue Folium Obaro x2
Complementary Hues: Blue Carota Biplex
Sparkly Gems: Blue Callaina Signum
Soda Pops: Blue Tingo Biplex, Blue Folium Signum
Superheroes: Blue Albeo Stellata, Blue Tingo Clunicula
Deep Freeze: Blue Albeo Signum x2
Ring Tones: Blue Albeo Gyrus
Hot Rods: Blue Aurum Persona
Ocean Motion: Blue Caelus Marinus x2
Bandaged Up: Blue Albeo Ligo x2
Blueberries: Blue Picea Stellata x4, Blue Picea Viduo x4
Insero Rainbow: Blue Folium Insero
Earth, Fire, Water, Air: Blue Caelus Partiri
Double Rainbow: Blue Chroma Sol
Winter Magic: Blue Albeo Glacio
Lights and Canes: Blue Muscus Clunicula
Ad blocker interference detected!
Wikia is a free-to-use site that makes money from advertising. We have a modified experience for viewers using ad blockers

Wikia is not accessible if you've made further modifications. Remove the custom ad blocker rule(s) and the page will load as expected.