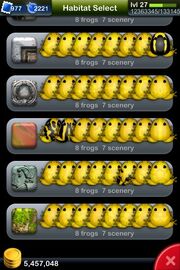 Aurum is a pattern or secondary color for frogs. Aurum is Latin for "gold," and the Aurum color is only slightly lighter than the base color Golden. It is darker than the base color Yellow.
Aurum frogs are required for the following awards:
Ad blocker interference detected!
Wikia is a free-to-use site that makes money from advertising. We have a modified experience for viewers using ad blockers

Wikia is not accessible if you've made further modifications. Remove the custom ad blocker rule(s) and the page will load as expected.